First of all, this game contains SHOTA content, so don't get it if you dislike that kink.
Secondly if you plan to get this game, you MUST install this NSFW patch from the OTAKU FAN publisher: https://otaku-plan.com/en/tratritle-en/
Otherwise you'll be playing a walking sim RPG game that lacks the main gameplay and even the art for the NPCs. The PATCHED game is the actual game that's advertised on the Steam store page.
Story
You'll be playing as the young Master living in a mansion with four other maids responsible for your wellbeing. They are: Michelle (Blonde close-eyed with huge bust), Katarina (Red-haired tsundere with big booba), Lisieux (Tiny gentle loli), and Salina (Tan succubus babe). Things were going well until the young Master hit puberty and his Lord father thought it appropriate to hire a succubus maid. The other three maids are wary of this succubus who could possibly steal their young master. They also happen to really, really like him.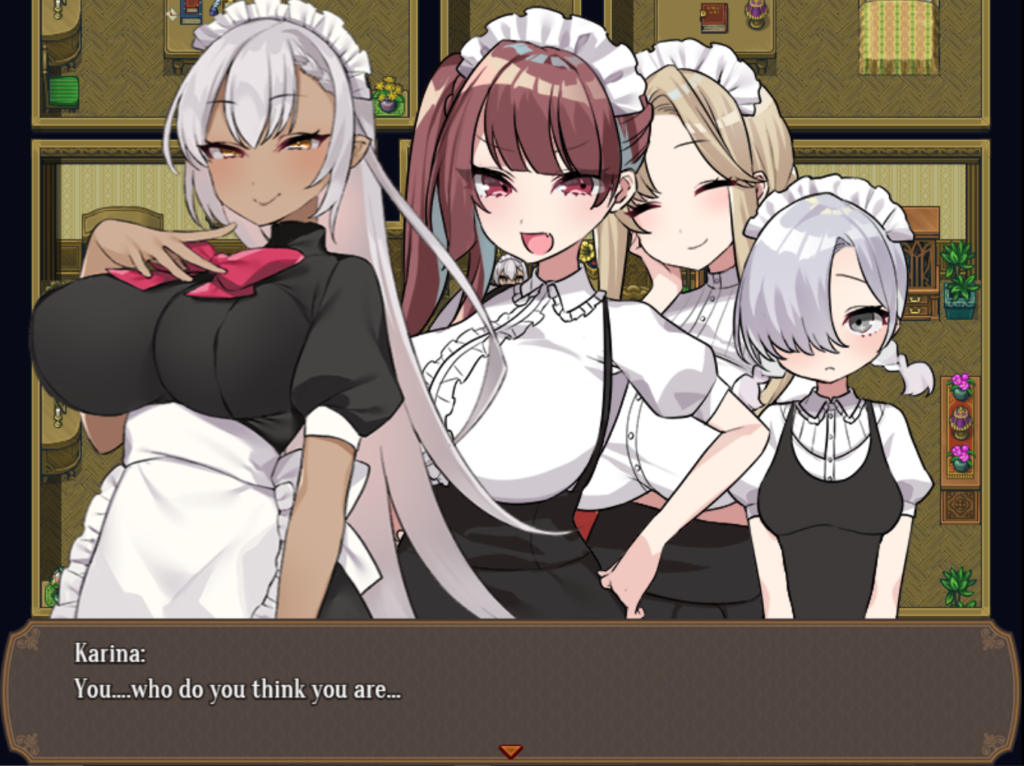 So in the game, you'll be living your normal life with four sexy maids. The premise is interesting enough, but I'll admit that the translation could be better. It's decent enough to be passed off as normal English but there are times in which the translation is a bit too literal. Those cases seem to be rare, but don't expect any deep philosophical storytelling from this game.
Gameplay
I will assume that you'll plan on getting the external patch which is free by the way. If not then completely disregard this and the following sections.
The controls are exactly what you would find in an RPG Maker game, so good job on that front. The game operates on timed daily routines for each day of the week. Don't worry about missing stuff as the week repeats, so you'll get more chances to see what the maids do.
The goal of the game is to get closer to your maids and engage in sexual interactions if you did not understand. You do this by talking with them often, hanging out with them on their day-offs, and even pulling some sexual pranks on them (Don't do it in real life folks). Salina, the succubus maid, will initiate you into using the horny side of the Force. In fact, the first power given to you is the ability to masturbate anywhere once your horny meter fills up. This ability leads to the most hilarious ♥♥♥♥ because you can do it in front of your maids.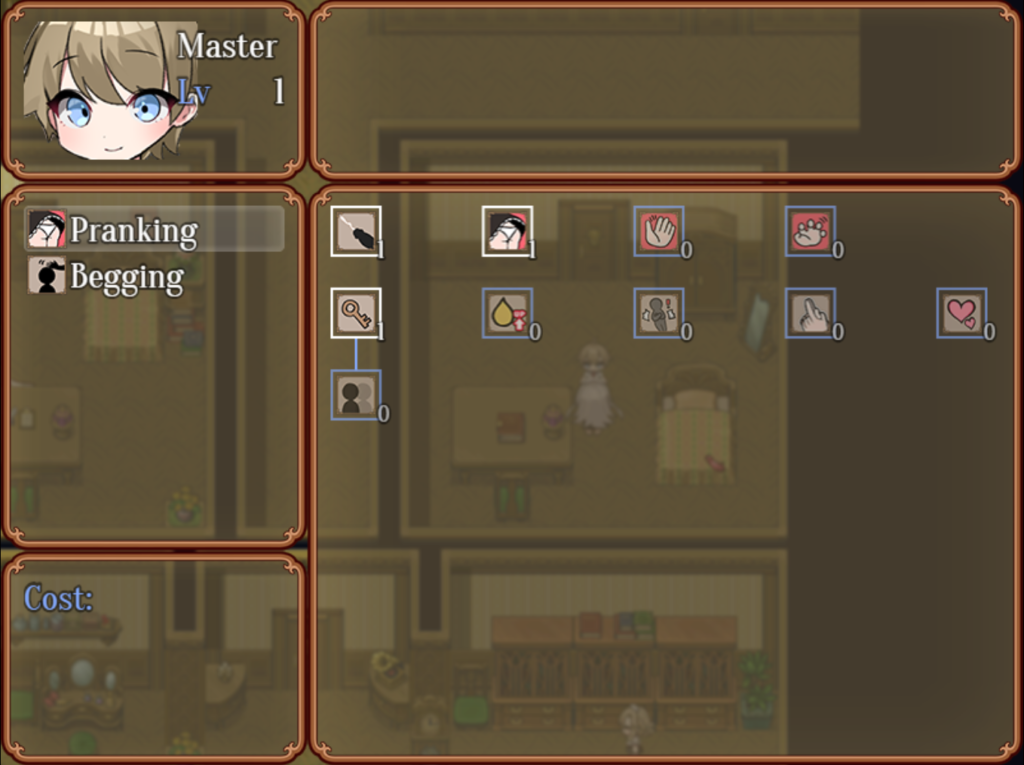 In order to gain more abilities to prank and even get sexy time from your maids, you must earn two types of points: Good Boy Points (GBP) and Not Good Boy Points (NGBP). GBPs can be earned by doing the right thing such as studying, bathing, and putting panties in the laundry. GBPs unlock the ability to get the explicit content, but take much longer to earn. On the other hand, NGBPs are much easier to earn because you're playing a porn game, it's free real estate. NGBPs will net you much milder stuff, but give you pranks to mess with your maids.
Art & Sound
Yes, the art is pretty good. The detail on the maids is quite impressive and noticeable. NSFW content holds itself well though it's mainly still images. I wish it was animated, but it does the job right. I must reiterate that this is SHOTA content and also that without the patch, you will not see any of the art which includes the normal NPC art for some reason.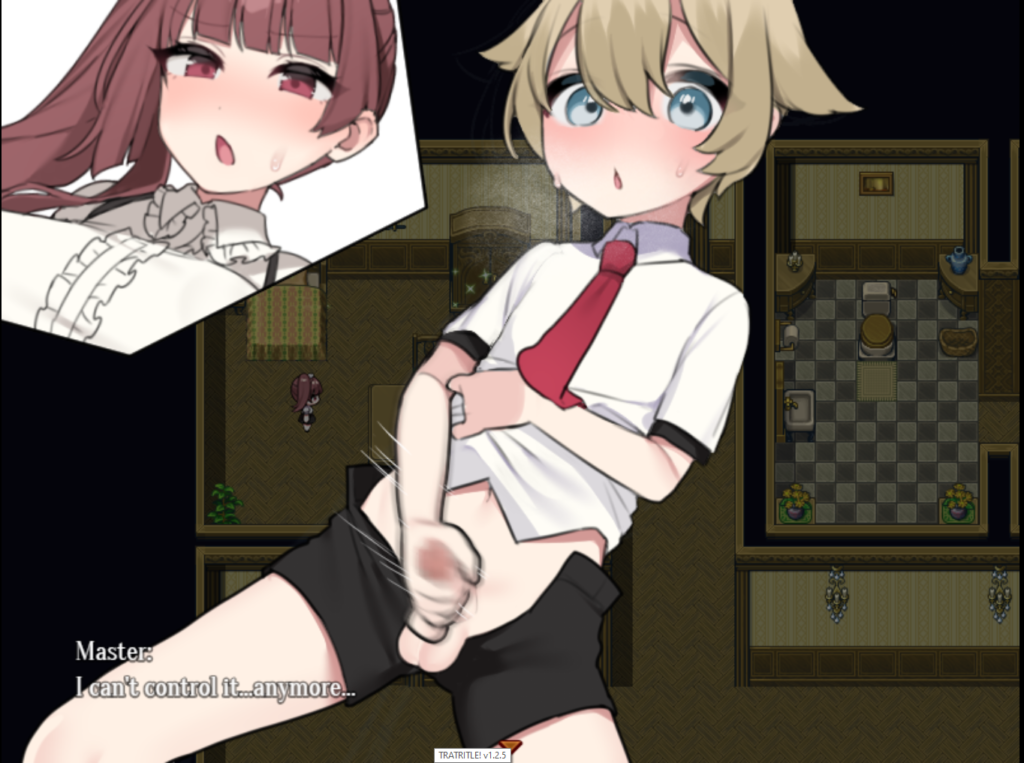 As for the sounds, I like the music. It's cute and a bit relaxing, although a bit loud. It's got that whimsical & playful charm that I'd hear in some anime fantasy village. However I can't say the same for the lewd scenes with sound, it's literally a generic wet, squelching noise.
Verdict
Basically if you're into shota content and would like the game to be more interactive/engaging instead of being a Visual Novel then I'd recommend it. Tratritle does it well only if you install the patch.
You can purchase the game through the Steam store page HERE.